A Yellowstone National Park Ghost Story
Excerpted from Spooky Yellowstone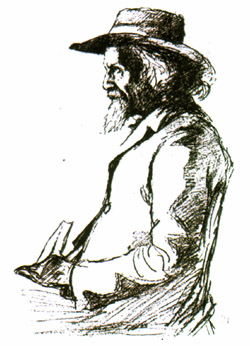 Yancey was a quirky old-time pioneer, gold prospector and Civil War veteran —perhaps the last of that breed—who came to Yellowstone National Park in the 1870s and built a hotel in "Yancey's Hole"; current day Pleasant Valley near Roosevelt Lodge. The hotel provided accommodations and provisions to the stagecoach traveling back and forth between Mammoth Hot Springs and the mining camps in Cooke City. It boasted five bedrooms and could accommodate twenty guests. Rooms were $2 per day, $10 per week, and included meals. There was also a saloon handy for anyone wishing a splash of moonshine after dinner.
Folks around Yellowstone called him "Uncle John" Yancey. He was popular with just about everybody in the park and its vicinity. Uncle John Yancey had important friends among the posh families back east, some of whom dropped by the hotel from time-to-time. Yancey knew all the good fishing holes and had plenty of tall tales to amuse people. He welcomed all and sundry with a libation of "Kentucky tea," reputed to be the best whiskey in the park.
John F. Yancey was seventy-seven years when he traveled to Gardiner, Montana, to witness the dedication of the Roosevelt Arch by President Theodore Roosevelt on April 24, 1903. Yancey met President Roosevelt during the ceremony, but he caught a cold at the event and died of pneumonia a couple of weeks later. He was buried in the old Tinker's Cemetery near Mammoth, and folks thought that was the last they'd ever see of Yancey. But not so!
It soon became apparent that Yancey's had gone right back to the Pleasant Valley; and Yancey's ghost made himself at home in Roosevelt Lodge for the next 100 plus years. According to the park employees, Yancey's ghost will bang a tin cup on the walls of the staff quarters at three a.m. He hides things and makes them reappear in unexpected places. Yancey's ghost has also been known to unsaddle horse (especially those of pretty girl wranglers) at the end of a long day on the trail. A trickster and a bit of a nuisance, Yancey's ghost is still as wild as the West he helped tame.
A psychic has an unexpected vision into the past while riding horseback through Yancy's hole in 's Spooky Yellowstone.